Hello pretties! ]Can I just say this is the second weekend in a row that has just been fantastic? My team won our soccer championship earlier today, I love my new design + I've just been blessed by so many kind words from so many kind people today. I'm just really, really grateful.
As far as weekly wishes go, last week I made a goal to watch a TEDTalk everyday. So I failed at that; I maybe only watched them three days. But I watched more than seven talks so I'm counting this week as a success. I'll be sharing my favorites in the next few days!
In this coming week, I want to practice orderliness which sounds like something I'd be practicing in 18th century England or something, but it's more of a state of mind. I actually looked it up + it means 'the quality of appreciating method or system". And that's a big thing I strive for. Whether that means keeping my things organized or my living space or just my mind, I want to keep my life neat.
Not super sciencey, just cool. (Image + excerpt from
The Guardian
)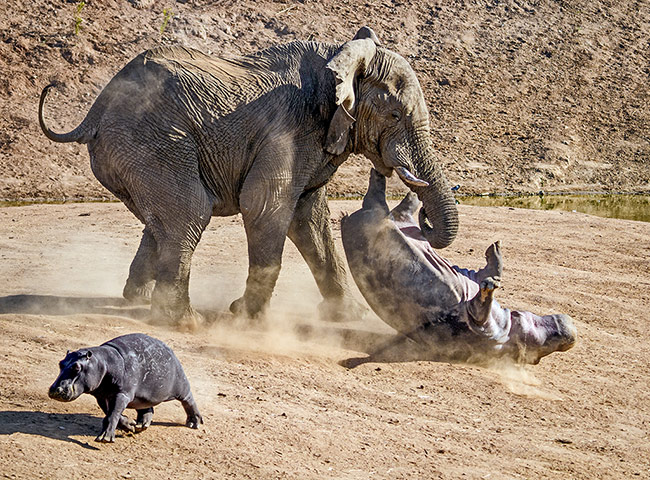 An elephant bull charges a female hippopotamus as her calf scampers to safety. This female hippo was flipped several feet into the air as she stood her ground against an aggressive elephant bull at the Erindi Private Game Reserve in Namibia. (The hippo was just fine) (Also, how cute is the calf?!) Photo by Rian van Schalkwyk/Barcroft Media.